Fixed-line Broadband is Next Telecom War Zone
It's bonanza time for consumers. After cheap mobile tariffs, consumers may now enjoy fixed-line broadband services at low tariffs as the entry of Reliance Jio in this segment may expand the market like never before.
The statistics show it all. Out of total 400 million broadband users, just 18 million are on fixed-line, though the mobile user base has been steadily going upwards at over 1 billion. The potential in the market is huge and due to various infrastructure issues, the market could not pick up earlier, but will now see frenzied action with the arrival of a new player with big pockets, according to an analyst tracking the sector.
"The next price war will happen in the broadband segment as Reliance Jio start making inroads into this space. Apart from broadband and DTH players, this will impact Bharti Airtel as it is aggressively ramping up its presence in this segment," the Mumbai-based analyst said requesting anonymity.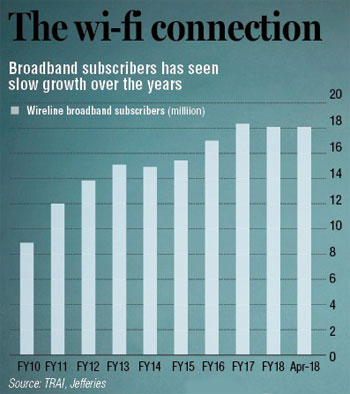 Till now, the fixed-line broadband market is dominated by state-run telecom player BSNL with 9.24 million users followed by largest mobile player Bharti Airtel with 2.19 million users. The other companies operating in this space include Den Networks, Hathway, ACT Fibernet, MTNL.
The current fixed line broadband subscriber base at 18 million translates into a penetration of 6.5% of the total households in India, according to research firm IDFC Securities. However, in the US and China, fixed broadband homes as a percentage of pay-TV homes exceeds 98% and in India this number stood at just 14% as of calendar 2017.
Many experts feel Reliance Jio will follow the same strategy as that of telecom where it entered the market with free services initially. "The pricing of Jio is expected to be extremely competitive and initial three to six months could be completely free just like the wireless service launch," an IDFC Securities report said.
"An entry price point of Rs 500 (for basic broadband service) could lead to massive penetration and this price could be increased as more value added services (such as TV, video calling, etc.) are provided on top of this. The price point of Rs 500 would be far lower than the average Arpu of larger MSOs and also lower than their entry packs."
Called Jio GigaFiber, the fixed line broadband for homes and enterprise service will be available across 1,100 cities, Reliance Industries chairman Mukesh Ambani said at the company's Annual General Meeting last week. The trials for service are already going on and the target is to reach 50 million homes.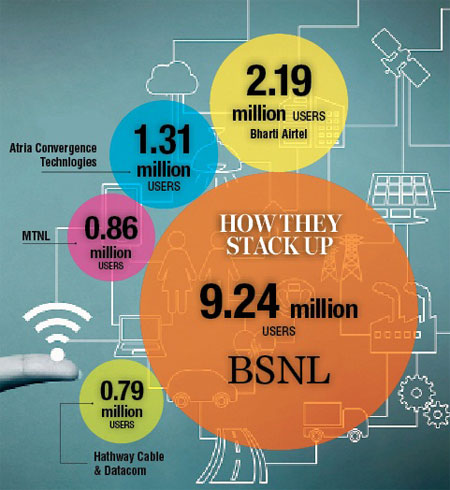 A senior BSNL official said the company has already announced attractive offers for its broadband users and the impact won't be immediate. "We will be very competitive in the broadband space as well. We matched offers given by RJio and even came out with low tariff plans for our mobile users. "
Earlier this month, BSNL introduced a Rs 491 broadband plan with 20Mbps speed, 20GB per day to take on its competitors.
Besides mobile, Airtel has been quite aggressive in the broadband space as well. It has launched its V Fiber and FTTH based broadband services in few cities already and is expanding aggressively.
The announcement of Jio GigaFiber will also be a serious competition for TV distributors on both the DTH and cable side and is likely to put further pressures on already falling Arpus once the service is launched. Amongst DTH players, it represents more of a threat for Tata Sky which dominates urban markets than Dish TV, which is stronger in rural areas, according to a research note by Credit Suisse said.
RJio has plans to launch various applications for its broadband offering — smart home appliances, video calling via TV. Besides, the launch of Jio GigaTV was also announced, which is an internet connected 4K UHD set-top box allowing users access to JioTV, JioCinema and also other features such as JioSmartLiving. There is no fixed launch date, but registrations will start from August 15
India has been ranked quite low at 134th in the global ranking for fixed broadband and poor fixed line infrastructure has been a key reason for this. About 80% of data consumption happens indoors through fixed line in homes, in offices and other premises. The fibre to the home (FTTH) service will enable the fibre to reach directly homes/enterprises. Till now, optical fibre reached the premises of the buildings while last mile connectivity is done through copper cable which makes network speeds slower at times. FTTH is more efficient and will offer higher speeds.
India is also on the cusp of moving to another technology 5G – applications under which will be possible only through the optic fibre network. The government is in the midst of connecting rural area through its ambitious broadband project – BharatNet.
Since its launch in 2016, Jio disrupted the telecom industry by offering free calls and cheap data plans, forcing incumbents such as Bharti Airtel, Vodafone and Idea Cellular to match its offers to retain their users. The entry also kicked off a consolidation phase in the telecom industry. – DNA