Did Airtel Bow Down to Discriminatory Request?
Telecom giant Airtel has strongly rejected allegations of bowing down to a discriminatory request by a customer named Pooja Singh, who had refused to take the services of a Muslim professional of the company. Issuing a detailed statement in this regard, Airtel has asserted that what's being construed is "untrue and factually incorrect".
On June 18, an Airtel customer named Pooja Singh had some issues related to the service. She took to microblogging site Twitter to reach out to the telecom major over the same, and her request was responded to by an executive named Shoaib.
The customer refused to take the services, citing the religion of the executive and made a request for a non-Muslim executive. She tweeted, "Dear Shohaib, as you're a Muslim and I have no faith in your working ethics because Kuran may have different version for customer service, thus requesting you to assign a Hindu representative for my request. Thanks."
Following this, an executive named Gaganjot attended to her request. This led to a major uproar on the microblogging site, with many reacting angrily to the request made by the customer. Twitterati were also up in arms against Airtel, saying that the company should not have listened to such demand which was discriminatory.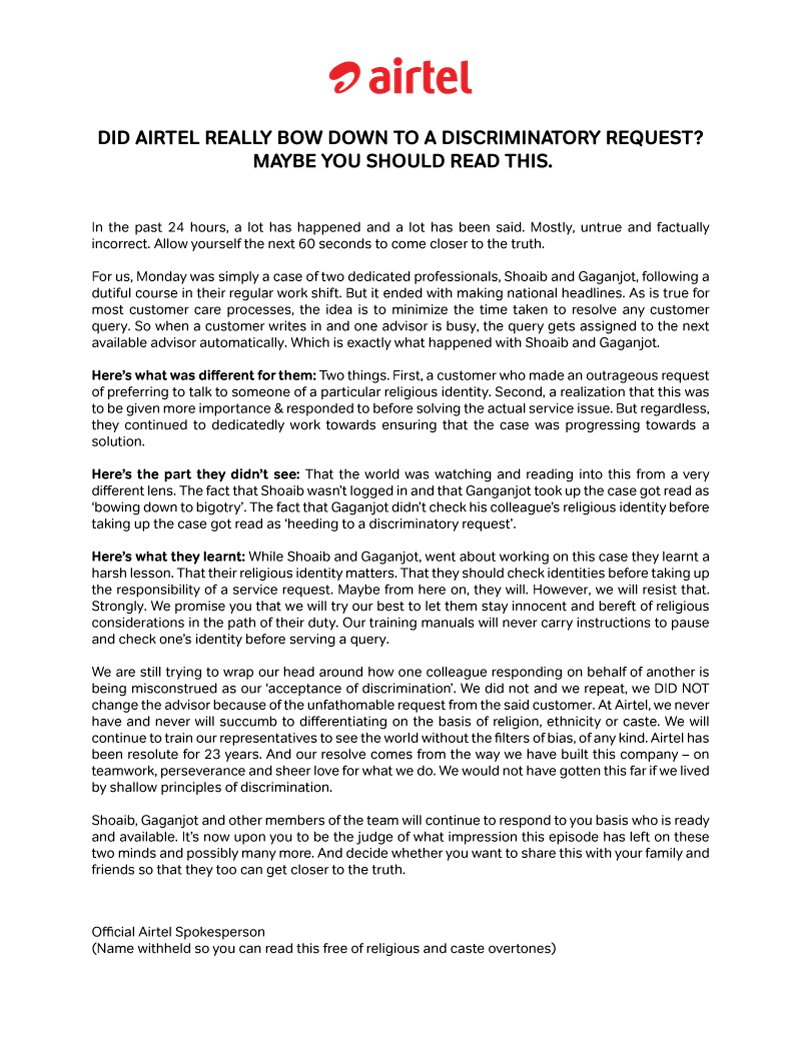 In its defence, Airtel released a detailed statement wherein it said, "For us, Monday was simply a case of two dedicated professionals. Shoaib and Gaganjot, following a dutiful course in their regular work shift. But it ended with making national headlines. As is true for most customer care processes, the idea is to minimize the time taken to resolve any customer query. So when a customer writes in and one advisor is busy. the query gets assigned to the next available advisor automatically. Which is exactly what happened with Shoaib and Gaganjot."
Talking about the executives involved in the incident, Airtel statement further said, "We promise you that we will try our best to let them stay innocent and bereft of religious considerations in the path of their duty. Our training manuals will never carry instructions to pause and check one, identity before serving a query."
Airtel termed the request of the customer as "outrageous" and asserted that the company would never adhere to any such demand from any customer. – Zee News