Rekha (name changed) joined a matrimonial portal hoping to find a life partner, but she didn't know she would end up losing Rs 5.4 lakh. Rekha met her 'prospective life partner' Tarun (name changed), an NRI reportedly based in the US, through the portal and started talking to him on WhatsApp. It turned out Tarun was a fraudster from Noida, impersonating as an NRI.
"Several applications provide a virtual phone number. These applications are used as tools by fraudsters to appear genuine when they claim to be an NRI to dupe victims. The virtual phone number could be with a country code of the US or the UAE. The fraudsters, likely sitting in Delhi or Mumbai, can claim to be an NRI using a virtual number. They would only chat or call on WhatsApp. This technology is mostly being used in matrimonial fraud cases. As these numbers are virtual phone numbers, it gets tricky to trace them," Ishaan Sinha, a cyber crime investigator and director, BlakTronics Investigation Labs, said.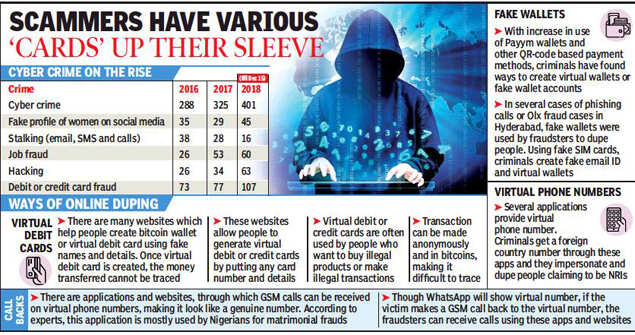 Rekha realised that she was cheated when she transferred money to various accounts after getting a call claiming to be from the customs department. The caller said Tarun, who was visiting India, was caught by the customs department for carrying hard cash. She paid the money for his release, but Tarun never called her back.
Fraudsters are using technologies like virtual wallet and virtual phone numbers to impersonate and dupe people.
Recently, a 19-year-old student, Hafeez, who saved his pocket money for months to buy a second-hand iPhone on Olx, was cheated after he transferred Rs 15,000 over Paytm wallet. The seller claimed to be an army officer and asked him to transfer the money to his wallet and sent a fake courier receipt.
"Controlling the sale of fake SIM cards is one of the solutions. To create a fake Gmail account, Paytm wallet and virtual number, one needs a phone number for the verification process. If one gets a fake number, the person can create a fake identity," Sinha added.
Though cyber crime police have written to Telecom Enforcement and Resource Monitoring (TERM) Cell, the vigilance and monitoring wing of the department of telecommunications (DoT), about the rampant sale of fake SIMs, there was no response from the Cell to resolve the issue.
"In most fraud cases, the accused have easy access to fake SIM cards. We have written several letters to TERM Cell, requesting for action against popular telecom companies. However, nothing much has been done. As per rules, for each fake number provided by the company, it has to pay a fine of Rs 50,000," Hyderabad additional DCP, cyber crime, Raghu Vir said.―Times of India