Key takeaways—2021 total enterprise network equipment market
We've just wrapped up the 4Q21 reporting period for Dell'Oro Group's enterprise network equipment programs, which include campus switches, enterprise data center switches, SD-WAN & enterprise routers, network security, and Wireless LAN. Enterprises include businesses of all sizes as well as government, education, and research entities. The equipment tracked in these programs can be used for wired or wireless data communication in private and secure networks.
Sales hit record level in 2021
Despite a macro-economic environment that continues to be defined by supply constraints, our reports showed a strong rebound in the overall Enterprise Network Equipment market in 2021, following some stagnation in the prior year. Sales jumped 12% year-over-year (Y/Y), propelling the market to a record- level in 2021.
The strong performance was broad-based across all technology segments. Enterprise Routers, Wireless LAN, and Network Security were all up double-digits. In the meantime, Campus and Enterprise Data Center Switches were up mid-to-high single digits. All technology segments hit record-revenue level in 2021.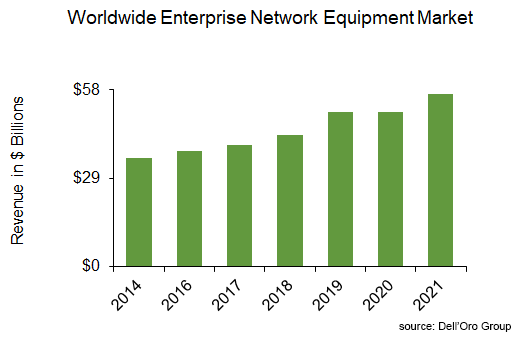 We have calculated that spending on enterprise network equipment rose by nearly $6.0 B in 2021. Security accounted for 40% of the increase in spending, while campus switches accounted for a quarter of the increase.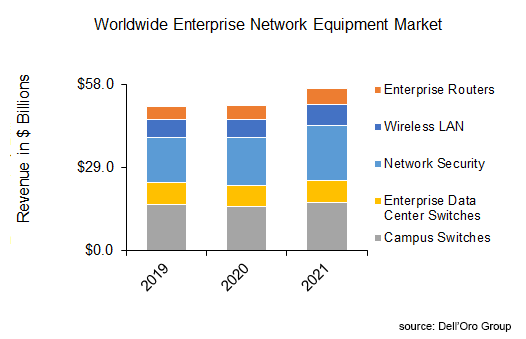 We attribute this broad-based recovery to the following:
Continuing improvement in macro-economic conditions.
Continuing government spending and stimulus around the world.
Network upgrades in preparation for workers returning to the office full or part-time.
Digital transformation initiatives, accelerated by the pandemic, are driving new network requirements and putting pressure on IT managers to upgrade their networks and add different security layers.
Orders pulled in from future quarters, to mitigate ongoing supply challenges that are adversely affecting product availability, lead times, and prices.
The 2021 robust performance in the Enterprise Network Equipment market was broad-based across all regions, except the Caribbean and Latin America, which was flattish (although showing a significant improvement from the high-single-digit decline registered last year).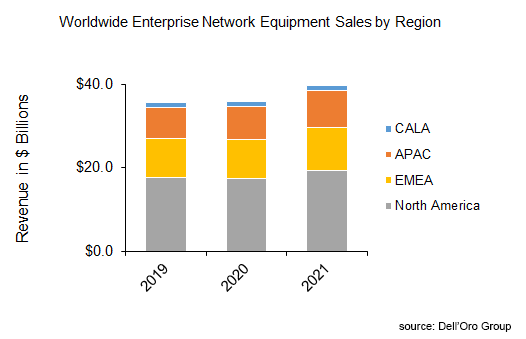 Cisco loses some ground — still leads the enterprise network equipment Market
The analysis shared in our reports showed no major change in vendors' ranking. Cisco remains the only vendor with more than 10% share in the market, although the firm lost three points of revenue share in 2021. This share loss was broad-based across all technology segments, except WLAN. In the meantime, HPE Aruba, Palo Alto Networks, Fortinet, H3C, and Arista, gained one point of revenue share, each.
Nevertheless, we would like to note that the vendor landscape continues to be defined by a challenging supply environment and that some of the share shifts witnessed in 2021 may not be necessarily reflective of competitive displacement, but rather the timing of order fulfillment.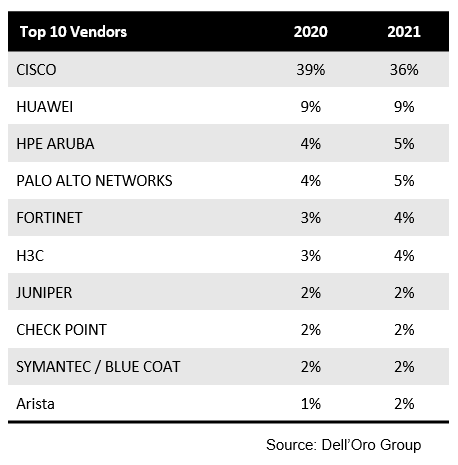 Robust market outlook for 2022
Despite a challenging supply environment that is expected to persist through most of 2022, Dell'Oro analysts are projecting strong double-digit revenue growth in the Enterprise Network Equipment market in 2022. This optimism is underpinned by healthy outlooks provided by most vendors as a result of increased visibility and robust backlogs. Additionally, ongoing supply challenges will continue to encourage customers to place advance orders, which will have a positive effect on bookings first, then a few months later, on revenues, depending on lead times.
Dell'Oro Group Enterprise Network Equipment research programs consist of the following: Campus switches, Enterprise Data Center Switches, SD-WAN & Enterprise Routers, Network Security, and Wireless LAN.
CT Bureau