India tablet market grows 4% in CY2021
According to CMR's Tablet PC Market Report Review for CY2021 released today, Lenovo reigned India's Tablet PC Market. In Q4 2021, the overall tablet market grew 31% YoY, while for the entire year, it grew 4% YoY. 4G Tablets grew sequentially by 2% YoY.
According to Menka Kumari, Analyst-Industry Intelligence Group (IIG), CMR, "Driven by the pandemic, and the need for companion devices at home for work, learn and unwind, tablets continued to witness a strong growth momentum for the second year in succession. Driven by the market demand, new market entrants, such as Realme debuted their tablet offerings, and with some more smartphone players eyeing the tablet market in the future."
"The all-important festive season sales contributed to the growth momentum. Beyond the B2C segment, the B2B tablet segment also saw a strong uptick, especially in healthcare and digital education, among others," added Menka.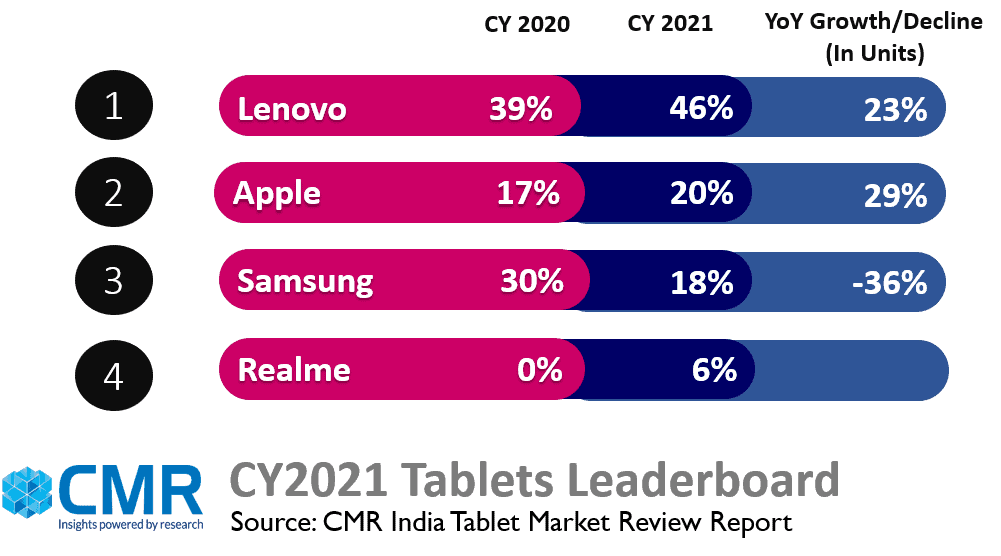 Shipments of Tablets with 8 inches display constituted 16% of the overall shipments in the India market. On the other hand, Tablets with 10-inch and above displays contributed to 74% of the shipments.
Among the market players, only Lenovo posted a double-digit growth in Q4 2021 that further cemented its place at the top of the leaderboard. Lenovo (46%), Realme (12%) and Apple (12%) captured the top three spots in the tablet leaderboard in Q4 2021, followed by Samsung and Lava.
Vendor Highlights – CY2021
Lenovo topped the tablet market in India, mainly driven by its enterprise tablet business. Lenovo Tab M10 HD Tablet series garnered 32% market share and primarily in the value for Money (INR 7,000-INR 25,000) segment. Lenovo shipments recorded a remarkable 23% YoY growth in CY2021. Lenovo has a strong offline play, catering to enterprise and consumer demand.
Apple was placed second with 20% market share, and a remarkable 29% YoY growth in Apple iPad shipments.
Samsung was placed third in the market leaderboard with an 18% market share.
Realme made an impressive debut in the Tablet Market with 6% market share in CY2021. The success of Realme Pad is on the back of the strong brand affinity and success that Realme enjoys in the smartphone market.
Future market outlook
CMR anticipates an overall growth of Tablet shipments hovering around 5-10% in CY2022, with a slower than expected Q1 2022 due to supply side constraints.
"In CY2022, we anticipate the Tablet market to start on a muted note owing to supply constraints. On the demand side, we anticipate consumers to hold onto their new tablets, and this in turn, may pose growth challenges. That said, we believe that the India tablet market is primed for new, differentiated offerings at the premium as well as the affordable yet specced tablets in the affordable tablet segment. With the pandemic potentially entering into an endemic stage in 2022, we foresee enterprise B2B Tablet segment for applied commercial use cases to take off," added Menka.
CT Bureau