Huawei Y5 Prime Official Specs And Images Now Available
The Y-series contains entry level and mid-range handsets which compete in many of the same markets and price segments as Xiaomi's Redmi devices. This low-price/low-margin segment is essential to Huawei for maintaining high unit volume sales, and the Y-series has historically been a reliable seller in "growth markets" for the company.
A redesigned body shows the most obvious visual change for the Y5 Prime (2018) when compared to its non-prime 2017 predecessor. The display is now 5.45-inch 2:1 (18:9) with an HD+ resolution of 1440 x 720, instead of the more traditional 16:9 HD screen. The 8 MP camera has been dropped in favor of dual 13 MP and 5 MP sensors for improved resolution and depth of field effects. Face unlock will come after release via an OTA update.
The SoC isn't specified, but Huawei tends to use MediaTek chipsets at this lower price point so we wouldn't be surprised if it wasn't a HiSil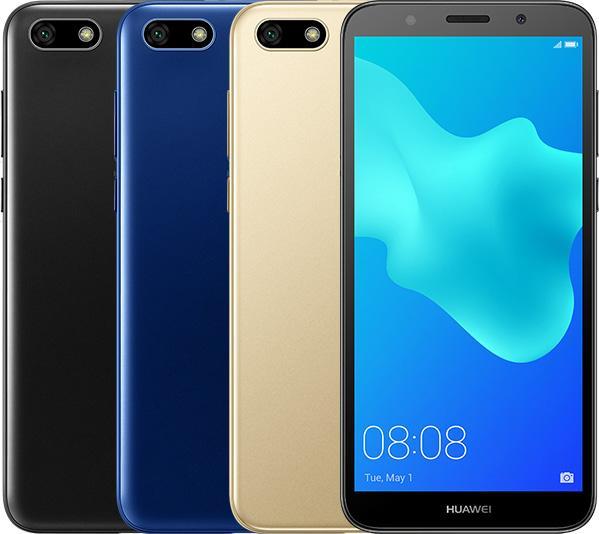 icon Kirin SoC. The 2 GB of RAM is typical for a cheap phone but does seem anemic compared with the more high-profile releases we're used to, and the same goes for the 16 GB of storage. Battery capacity is average at 3020 mAh, but Android 8.1 Oreo has additional power saving tweaks that weren't in Android 6.0, so this should help squeeze out a little extra battery time to counteract the larger display.
The Y5 Prime (2018) has a variant (DRA-L22) with dual SIM slot plus an additional MicroSD. It isn't commonplace to see the ability to add two SIM cards and expandable storage, but this feature is welcome in markets such as India where it is more common to pick one carrier for calls/SMS and another for data, based on who is offering the best rates. It is also useful for frequent travelers who move between countries with unfavorable roaming agreements.
The Y5 Prime measures 147 x 71 x 8.3 mm (5.77 x 2.79 x 0.33 inches) and 142 grams (5.01 ounces). It will come in black, blue, or gold. – Note Book Check