5G smartphone shipments in India up 30% YoY
According to Cyber Media Research (CMR)'s India Mobile Handset Market Review Report for Q3 2022 released today, the smartphone shipments declined 12% YoY. However, on a QoQ basis, the Smartphone shipments recorded a 16% growth. 5G Shipments grew 30% YoY
According to Menka Kumari, Analyst- Industry Intelligence Group, CyberMedia Research (CMR), "On the back of the recent 5G auctions, shipments of 5G smartphones continued to gain momentum during the quarter. Driven by the festive season sales, consumer appetite for 5G, value for money and premium smartphones saw a strong growth. Interestingly, the uber-premium 5G smartphone (>INR 1,00,000 ) segment grew 170% YoY."
The overall Mobile market witnessed 16% YoY decline in Q3 2022.
Smartphone Segment
There was a 57% YoY decline in the affordable smartphone segment (Sub INR 7000). Consumer demand was strong in the value-for-money smartphone segment (INR 7000-INR 25,000), with 79% of smartphones shipped in this price segment in Q3 2022. The premium smartphone segment (INR 25,000-INR 50,000) and the super- premium smartphone segment (INR 50,000-INR 1,00,000) saw shipments increasing by 9% and 39% YoY respectively.
Xiaomi (22%), Samsung (20%) and Realme (14%) captured the top three spots in the Smartphone leaderboard in Q3 2022 followed by Vivo (12%) and OPPO (10%).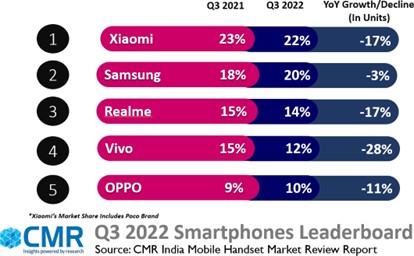 5G smartphone shipments grew 30% YoY and 21% QoQ in Q3 2022. During the quarter, 33 5G-capable smartphones were introduced in the market. Samsung led the 5G Smartphone segment with 23% market share, followed by OnePlus with 15% market share.
Feature Phone Segment
The overall feature phone segment continued to decline, reflecting the prevailing macro-economic environment, and weak consumer sentiment. Both 2G and 4G feature phone segment declined by 21% and 58% YoY respectively.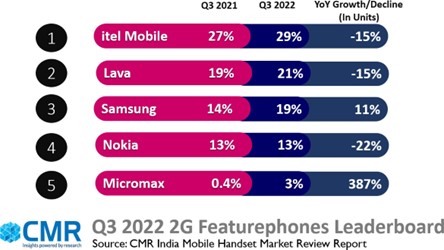 Q3 2022: Key Smartphone Market Highlights
Xiaomi captured the top spot with 22% market share. Redmi 9A Sport, Redmi 10(2022) and Redmi 10A were the most popular models. Xiaomi's shipments declined 12% YoY. Its sub-brand Poco also witnessed a 38% YoY decline in its shipments in Q3 2022.
Samsung was placed second with 20% market share in the Smartphone market. Samsung's focus on the value- for-money 5G Smartphone segment (INR 7,000-INR 24,999) enabled its market growth. Samsung's 5G Smartphone shipments recorded significant 88% YoY growth.
Realme was placed third with 14% market share and its shipments declined by 17% YoY. realme C35, realme C30, realme C33 and realme Narzo 50i and were the most shipped models and accounted for most of Realme's market share.
Vivo garnered 14% market share along with its sub-brand iQOO. The vivo T1, vivo T1 Pro and vivo Y75 5G models accounted for the bulk of its 5G shipments.
OPPO was placed fifth with 10% market share. The OPPO A16e, OPPO A16k and OPPO A55 series were the highest shipped models. OPPO captured 5% share in the overall 5G shipments.
OnePlus shipments witnessed 30% YoY growth. The OnePlus Nord series accounted for 79% of OnePlus shipments.
Apple captured 4% market share with 8% YoY increase in its shipments. The iPhone 12, iPhone 13 and iPhone 14 series contributed to a majority of the iPhone shipments during the quarter. 76% of iPhone shipments were in the super-premium (INR 50,000-1,00,000) smartphone segment.
Transsion Group brands (Itel, Infinix and Tecno) overall (Smartphone + featurephone) shipments declined 24% YoY. Its Smartphone shipments declined 33% YoY.
CT Bureau