5G Smartphone shipments in India grew 74% YoY in CY2022
According to CyberMedia Research (CMR)'s India Mobile Handset Market Review Report for CY2022 released, India's 5G smartphone momentum continued through CY2022. The 5G smartphone shipment share increased to 31%, with 5G shipments growing 74% YoY in 2022. Around $20Bn value of 5G Smartphones were shipped in 2022. Samsung led the 5G Smartphone segment with 23% market share, followed by OnePlus with 15% market share.
Commenting on the overall market conditions in CY2022, Menka Kumari, Analyst- Industry Intelligence Group, CyberMedia Research (CMR), "5G smartphone shipments posted a strong growth in the year. Driven by a resilient consumer appetite to switch and upgrade, the premium smartphone market continued to gain traction. In fact, the uber-premium smartphone segment (>INR 1,00,000) grew a whopping >95% YoY. All said, the overall smartphone market continued to post a decline, driven by the tough market conditions in H2 2022."
The overall mobile market in India declined 17% YoY in 2022.
Smartphone Segment
The India smartphone shipments declined 8% YoY. On a QoQ basis, the smartphone shipments declined by 28% in Q4 2022.
Supply constraints as well as challenging economic conditions contributed to a 55% YoY decline in the Affordable smartphone segment (Sub INR 7000) and 8% YoY decline in the Value-for-money smartphone segment (INR 7000-INR 25,000).
However, the Premium smartphone segment (INR 25,000-INR 50,000) and the Super-premium smartphone segment (INR 50,000-INR 1,00,000) saw shipments increasing by 12% and 41% YoY respectively. This contributed to an increase in the overall ASP.
Xiaomi (21%), Samsung (19%) and Vivo (14%) captured the top three spots in the Smartphone leaderboard in 2022 followed by Realme (14%) and Oppo (10%).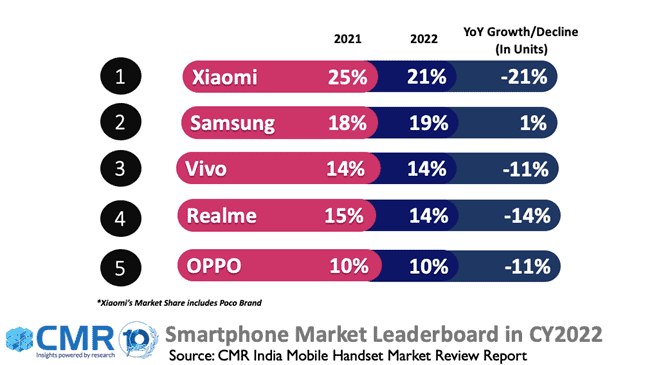 Feature Phone Segment
The overall feature phone segment declined by 34% YoY, driven by the weak consumer sentiment, owing to high device prices. Both 2G and 4G feature phone segment declined by 30% and 57% YoY respectively.
Key Smartphone Market Highlights in CY2022
Xiaomi captured the top spot with 21% market share. Redmi 9A Sport, Redmi 10(2022) and Redmi 10A were the top three models. Its sub-brand Poco witnessed a 37% YoY decline in its shipments in 2022. Xiaomi's 5G Smartphone shipments recorded significant 138% YoY growth.
Samsung was placed second with 19% market share in the Smartphone market. Samsung was the leader in the Premium (INR 25,000-INR 50,000) Smartphone segment with 31% share. Samsung's 5G Smartphone shipments crossed 10Mn mark and recorded a remarkable 142% YoY growth.
Vivo was placed in third position with 14% market share. The vivo Y75 5G, vivo T1 and vivo V23E models accounted for 34% of its 5G shipments.
Realme was placed fourth with 14% market share, with its shipments declining by 14% YoY. realme C35, realme C11(2021), realme C31 were the top three models shipped.
OPPO was placed fifth with 10% market share. The OPPO A16, OPPO A16k and OPPO A76 series were the top three models shipped.
OnePlus Smartphone shipments recorded 48% YoY growth. The OnePlus Nord CE 2 and Nord CE 2 Lite accounted for 64% of OnePlus 5G Smartphone shipments.
Apple captured 4% market share with 17% YoY increase in its shipments. Apple shipped ~$6Bn value of Smartphones in 2022. 79% of iPhones shipped were in the super-premium (INR 50,000-INR 1,00,000) smartphone segment.
Transsion Group brands (Itel, Infinix and Tecno) overall (Smartphone + Feature Phone) shipments declined 21% YoY.
Future Market Outlook
For CY2023, CMR estimates the market conditions to remain tough in 1H 2023, with smartphone shipments for the entire year growing in single digit YoY, and with shipments potentially hovering around the 160-165Mn mark.
"We anticipate the tough macro-economic conditions to persist in the first half of the year. The silver lining continues to be the growth in 5G smartphone shipments. It will be a big year for 5G in India. As we move forward, we anticipate smartphone OEMs to bring more affordable 5G smartphones into the market. All of this bodes well and complements the aggressive 5G network deployment by Indian telcos," added Shipra Sinha, Analyst – Industry Intelligence Group (IIG), CyberMedia Research (CMR).
CT Bureau